( May 10, 1918 - October 12, 1954 )
Major, Air Force


"George Schwartz Welch" was born May 10, 1918 in Wilmington, Delaware and named "George Lewis Schwartz, Jr." on the day he was born by his parents George Lewis Schwartz, Sr. and his Mom Julia Welch Schwartz. They resided on Wawaset Street in Wilmington. George, Sr. worked as a senior research chemist for Dupont Experimental Test Station in Wilmington.

Right after World War I had ended his parents, in the face of strong anti-German bias in the United States, changed their son's name to "George Schwartz Welch". George attended St. Andrew's School outside of Middletown, Delaware and Purdue University where he completed three years of a mechanical engineering degree before joining the Army Air Corps in 1939.

After joining the Army Air Corps George attended flight training schools at Brooks Field, Kelly Field and Randolph Field in San Antonio, Texas, as well as Hamilton Field in Novato, California. He received his wings and was commissioned in January 1941. George was then assigned to the 47th Pursuit Squadron, 15th Pursuit Group, at Wheeler Field, Oahu, Hawaii in February 1941.

In December of 1941 George was serving as a Second Lieutenant and fighter pilot in Honolulu. He and fellow pilot 2nd Lieutenant Kenneth M. Taylor (who eventually became a Brigadier General) had partied the night before the Japnese attacked Pearl Harbor, and legend has it they had only two hours' sleep when they heard bombs explode. Welch and Taylor's planes, P-40 Kittyhawk's, had been parked, away from the air bases being bombed, and Welch called the field to get their planes ready. "It's not a gag; the Japs are here," he said.

In Welch's Buick convertible, they raced to their planes at Haleiwa field and nine minutes later were in the air, engaging Zeros and Val dive-bombers. Welch's plane was damaged, but he managed to shoot down one of the bombers. They then flew to Wheeler Field, being strafed, and two mechanics ran into a burning hangar to get more 30-caliber ammunition to reload their wing guns. The best estimate is that only 20 planes were able get into the air, and many were shot down. "Welch & Taylor were credited with shoting down six Japanese aircraft between them".

Welch & Taylor's actions have been portrayed in the movies "Tora! Tora! Tora!" (1970) and "Pearl Harbor" (2001). They were both one of the first pilots to be decorated in the war with the "Distinguished Service Cross"! They are both considered among the first American heros of World War II.

The chief of the Army Air Corps, Gen. Henry (Hap) Arnold, thought Welch deserved the Medal of Honor, but for disputed reasons, he and the other pilots received the next highest medal, the Distinguished Service Cross. Word was that the Medal of Honor was blocked by the Army because the men had taken off without authorization. Another reason given is that President Franklin Delano Roosevelt wanted an instant hero with whom to be seen and that the Medal of Honor process would have taken too long since the procedure was not yet in place.

After Pearl Harbor Welch returned to the United States to give war bond speeches until being re-assigned to the 36th Fighter Squadron of the 8th Fighter Group in New Guinea. During his time in the United States he was to meet President Roosevelt in 1942 (see photo below).

In New Guinea he was assigned to fly the poorly performing Bell P-39 Airacobra which he strongly did not like. Welch appealed to be assigned to the 80th Fighter Squadron (which flew P-38s) until he was granted a transfer. Between June 21 and September 2, 1943, flying a P-38H, Welch shot down nine more Japanese aircraft: two Zeros, three Ki-61 Tonys, three Ki-43 Oscars and one Ki-46 Dinah. Welch flew three combat tours (a total of 348 combat missions with 16 confirmed victories, all achieved in multiples).

Welch then came down with malaria. While still recovering from malaria Welch was approached by North American Aviation to become a company test pilot. With the recommendation of General Arnold, Welch resigned his commission in the United States Army Air Forces and accepted the job in the spring of 1944.

During his service to his country he was awarded the " Distinguished Service Cross ", "Silver Star", "Distinguished Flying Cross with 2 Bronze Oak Leaf Clusters", "Air Medal with 1 oak leaf cluster", "Air Force Presidential Unit Citation with 2 bronze oak leaf clusters", "American Defense Service Medal with 1 service star", "American Campaign Medal", "Asiatic-Pacific Campaign Medal with 6 campaign stars", and the "World War II Victory Medal".

While a test pilot George went on to fly the prototypes of the Navy's North American FJ-1 and later the Army Air Forces' XP-86. On November 1, 1945 North American, with the aid of captured German technology, proposed and was given permission for a major redesign of the XP-86 to a 35-degree swept-wing configuration. This was new technology and the USA's first high-speed swept-wing airplane and a significant advance over Republic Aviation's XP-84. Welch was chosen as chief test pilot for the project. The maiden flight of the XP-86 was on October 1, 1947, flown by Welch. At the same Air Force base the Bell X-1 was also being tested.

Because of the success of the XP-86 concerning speed then Secretary of the Air Force Stuart Symington instructed North American, for an unknown reason, that they were not, under any circumstances, to break the sound barrier before the X-1 achieved this milestone.

In his book Aces Wild: The Race for Mach 1 (1998), fellow North American test pilot Al Blackburn speculates that Welch may have broken the sound barrier two weeks before Chuck Yeager in an early flight of the XP-86 prototype. Welch himself, however, never made that claim. Robert Kempel, author of The Race For Mach 1 contradicts the claim made by Al Blackburn, contending it was impossible for Welch's aircraft to break the sound barrier with an underpowered engine. On October 14, 1947, Captain Charles Yeager exceeded Mach 1 in the Bell X-1.

Welch went on to work as chief test pilot, engineer and instructor with North American Aviation during the Korean War, where he reportedly downed several enemy MiG-15 Fagots while "supervising" his students. However, Welch's kills were in disobedience of direct orders for him to not engage, and credits for the kills were thus distributed among his students.

After the Korean war, Welch returned to flight testing; this time in the F-100 Super Sabre with Yeager flying the chase plane. Welch became the first man to break the sound barrier in level flight with this type of aircraft on May 25, 1953.

On October 12, 1954 Welch was testing a F-100A-1-NA Super Sabre AF Ser. No. 52-5764. While attempting a 7g pullout at Mach 1.55 at 45,000 feet his F-100A-1-NA disintegrated and crashed in Rosamond Lake in the Mojave desert about 45 miles north of Los Angeles. He was found, still in the ejection seat, critically injured. He was evacuated by helicopter, but was pronounced dead on arrival at the United States Air Force Plant 42 hospital. Welch was 36, had one known son, and was interred in the Arlington National Cemetery, Arlington, Virginia.

Thus ended the life of a " True American Hero " !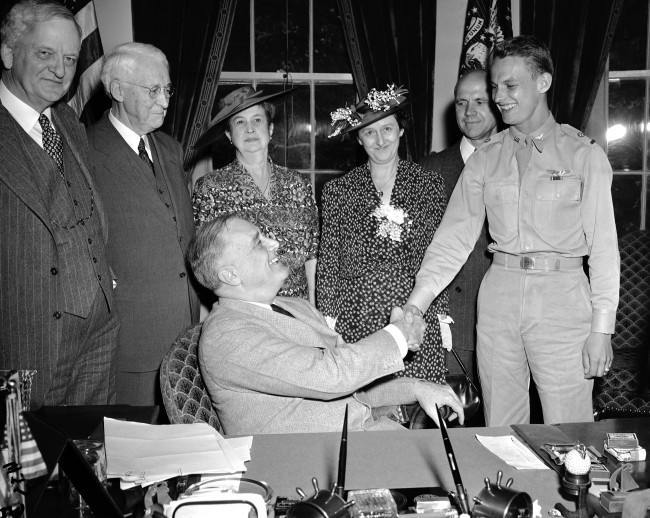 Left to Right:
"Possibly" Congressman Philip Andrew Traynor of Delaware.
U.S. Senator James H. Hughes (D-del.) & Mrs. Hughes
Mrs. Julia Schwartz & George Schwartz Welch's parents
Lieutenant Welch shaking hands with President Roosevelt, 1942
Above photo By Paul Sorene
http://flashbak.com/pearl-harbor-the-photo-story-of-japans-1941-attack-before-after-and-during-8890/
CC BY-SA 4.0, https://commons.wikimedia.org/w/index.php?curid=54722579
"Click Here" to view George S. Welch's "Find A Grave" record.
"Click Here" to view Kenneth M. Taylor's "Find A Grave" record.



Email any questions or comments to: Russ Pickett
Click Here
Last modified: November 30, 2018