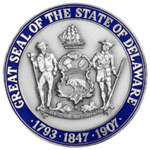 By: Russell S. Pickett
( All weblinks within this document are "Blue" )
The information presented here has been researched & compiled by myself and is not in any way to be considered an "official version" presented by the Government of the State of Delaware. Any question or comments concerning its content should be directed to me via email by "Clicking Here".
There are multiple lists below for you to view: The first list displays a heading and each governor in order by date of office. If you click on the "heading" for each group it will display all Governors from that time period. However you can also click on a Governor's name below the heading and get a quick link to each individual should you choose to only read about certain Governors. Below these listings are other multiple lists that I hope you enjoy.
There are also "multiple" links (highlighted in "blue") on almost each Governor's individual record that will provide you with even more information on them.
If anyone has a picture of a Governor, their home, grave site, or more detailed informtion on them personally please send me the info that your have via email by "Clicking Here".. Thanks for visiting my "Delaware Governor's Page" and please let me know if you see anything that needs to be changed.
Last Governor To Pass Away:



" Russell W. Peterson "


October 3, 1916 - February 21, 2011



" Click Here "
for introduction information to the Delaware Governors!


( " Click here for entire listing in this date series " )
( " Or Click on each Governor's individual name below for detailed information on them " )
| | | |
| --- | --- | --- |
| John McKinly | | ( 1st - February 12, 1777 to September 3, 1777 ) |
| Thomas McKean | | ( 2<!font size=2>nd<!/font> - September 22, 1777 to October 20, 1777 - Assumed Term ) |
| George Read, Sr. | | ( 3rd - October 20, 1777 to March 31, 1778 - Assumed Term ) |
| Caesar Rodney | | ( 4th - March 31, 1778 to November 6, 1781 ) |
| John Dickinson | | ( 5th - November 13, 1781 to November 4, 1782 ) |
| John Cook | | ( 6th - November 4, 1782 to February 1, 1783 - Assumed Term ) |
| Nicholas Van Dyke, Sr. | | ( 7th - February 1, 1783 to October 27, 1786 ) |
| Thomas Collins | | ( 8th - October 28, 1786 to March 29, 1789 ) |
| John (Jehu) Davis | | ( 9th - March 29, 1789 to June 2, 1789 - Assumed Term ) |
| Joshua Clayton | | ( 10th - February 1, 1783 to October 27, 1786 ) |
| Joshua Clayton | | ( 11th - February 1, 1783 to October 27, 1786 ) |
| Gunning Bedford, Sr. | | ( 12th - January 19, 1796 to September 28, 1797 ) |
| Daniel Rogers | | ( 13th - September 28, 1797 to January 15, 1799 - Assumed Term ) |
| Richard Bassett | | ( 14th - January 15, 1799 to February 20, 1801 ) |



( " Click here for entire listing in this date series " )
( " Or Click on each Governor's individual name below for detailed information on them " )
| | | |
| --- | --- | --- |
| James Sykes | | ( 15th - March 4, 1801 to January 19, 1802 - Assumed Term ) |
| David Hall | | ( 16th - January 19, 1802 to January 15, 1805 ) |
| Nathaniel Mitchell | | ( 17th - January 15, 1805 to January 19, 1808 ) |
| George Truitt | | ( 18th - January 19, 1808 to January 15, 1811 ) |
| Joseph Haslet | | ( 19th - January 15, 1811 to January 18, 1814 ) |
| Daniel Rodney | | ( 20th - January 18, 1814 to January 21, 1817 ) |
| John Clark | | ( 21th - January 21, 1817 to January 15, 1820 ) |
| Henry Molleston | | ( Died before taking oath of office ) |
| Jacob Stout | | ( 22nd - January 18, 1820 to January 16, 1821 - Assumed Term ) |
| John Collins | | ( 23rd - January 16, 1821 to April 16, 1822 ) |
| Caleb Rodney | | ( 24th - April 23, 1822 to January 21, 1823 - Assumed Term ) |
| Joseph Haslet | | ( 25th - January 21, 1823 to June 20, 1823 ) |
| Charles Thomas | | ( 26th - June 24, 1823 to January 20, 1824 - Assumed Term ) |
| Samuel Paynter | | ( 27th - January 20, 1824 to January 16, 1827 ) |
| Charles Polk | | ( 28th - January 16, 1827 to January 19, 1830 ) |
| David Hazzard | | ( 29th - January 19, 1830 to January 15, 1833 ) |
| Caleb P. Bennett | | ( 30th - January 15, 1833 to July 11, 1836 ) |
| Charles Polk | | ( 31st - July 11, 1836 to January 17, 1837 - Assumed Term ) |
| Cornelius P. Comegys | | ( 32nd - January 17, 1837 to January 19, 1841 ) |
| William B. Cooper | | ( 33rd - January 19, 1841 to January 21, 1845 ) |
| Thomas Stockton | | ( 34th - January 21, 1845 to March 2, 1846 ) |
| Joseph Maull | | ( 35th - March 2, 1846 to May 3, 1846 - Assumed Term ) |
| William Temple | | ( 36th - May 6, 1846 to January 19, 1847 - Assumed Term ) |
| William Tharp | | ( 37th - January 19, 1847 to January 21, 1851 ) |



( " Click here for entire listing in this date series " )
( " Or Click on each Governor's individual name below for detailed information on them " )
| | | |
| --- | --- | --- |
| William H. H. Ross | | ( 38th - January 21,1851 to January 16, 1855 ) |
| Peter F. Causey | | ( 39th - January 16, 1855 to January 18, 1859 ) |
| William Burton | | ( 40th - January 18, 1859 to January 20, 1863 ) |
| William Cannon | | ( 41st - January 20, 1863 to March 1, 1865 ) |
| Gove Saulsbury | | ( 42nd - March 1, 1865 to January 15, 1867 - Assumed Term ) |
| Gove Saulsbury | | ( 43rd - January 15, 1867 to January 17, 1871 ) |
| James Ponder | | ( 44th - January 17, 1871 to January 19, 1875 ) |
| John P. Cochran | | ( 45th - January 19, 1875 to January 21, 1879 ) |
| John Hall | | ( 46nd - January 21, 1879 to January 16, 1883 ) |
| Charles C. Stockley | | ( 47th - January 16, 1883 to January 18, 1887 ) |
| Benjamin T. Biggs | | ( 48th - January 18, 1887 to January 20, 1891 ) |
| Robert J. Reynolds | | ( 49th - January 20, 1891 to January 15, 1895 ) |
| Joshua H. Marvil | | ( 50th - January 15, 1895 to April 8, 1895 ) |
| William T. Watson | | ( 51st - April 8, 1895 to January 19, 1897 - Assumed Term ) |
| Ebe W. Tunnell | | ( 52nd - January 19, 1897 to January 15, 1901 ) |


( " Click here for entire listing in this date series " )
( " Or Click on each Governor's individual name below for detailed information on them " )
| | | |
| --- | --- | --- |
| John Hunn | | ( 53rd - January 15,1901 to January 17, 1905 ) |
| Preston Lea | | ( 54th - January 17, 1905 to January 19, 1909 ) |
| Simon S. Pennewill | | ( 55th - January 19, 1909 to January 21, 1913 ) |
| Charles R. Miller | | ( 56th - January 21, 1913 to January 16, 1917 ) |
| John G. Townsend, Jr. | | ( 57th - January 16, 1917 to January 18, 1921 ) |
| William d. Denney | | ( 58th - January 18, 1921 to January 20, 1925 ) |
| Robert P. Robinson | | ( 59th - January 20, 1925 to January 15, 1929 ) |
| C. Douglass Buck, Sr. | | ( 60th - January 15, 1929 to January 16, 1933 - 1st Term ) |
| C. Douglass Buck, Sr. | | ( 61st - January 16, 1933 to January 19, 1937 - 2nd Term ) |
| Richard C. McMullen | | ( 62nd - January 19, 1937 to January 21, 1941 ) |
| Walter W. Bacon | | ( 63rd - January 21, 1941 to January 19, 1945 - 1st Term ) |
| Walter W. Bacon | | ( 64th - January 19, 1945 to January 18, 1949 - 2nd Term ) |



( " Click here for entire listing in this date series " )
( " Or Click on each Governor's individual name below for detailed information on them " )
| | | |
| --- | --- | --- |
| Elbert N. Carvel | | ( 65th - January 18, 1949 to January 20, 1953 - 1st Term ) |
| J. Caleb Boggs | | ( 66th - January 20, 1953 to January 18, 1957 - 1st Term ) |
| J. Caleb Boggs | | ( 67th- January 18, 1957 to December 30, 1960 - 2nd Term ) |
| David P. Buckson | | ( 68th - December 30, 1960 to January 17, 1961 - Assumed Term ) |
| Elbert N. Carvel | | ( 69th - January 17, 1961 to January 19, 1965 - 2nd Term ) |
| Charles L. Terry, Jr. | | ( 70th - January 19, 1965 to January 21, 1969 ) |
| Russell W. Peterson | | ( 71st - January 21, 1969 to January 16, 1973 ) |
| Sherman W. Tribbitt | | ( 72nd - January 16, 1973 to January 18, 1977 ) |
| Pierre S. du Pont, IV | | ( 73rd - January 18, 1977 to January 20, 1981 - 1st Term ) |
| Pierre S. du Pont, IV | | ( 74th - January 20, 1981 to January 15, 1985 - 2nd Term ) |
| Michael N. Castle | | ( 75th - January 15, 1985 to January 20, 1989 - 1st Term ) |
| Michael N. Castle | | ( 76th - January 20, 1989 to December 31, 1992 - 2nd Term ) |
| Dale E. Wolf | | ( 77th - December 31, 1992 to January 19, 1993 - Assumed Term ) |
| Thomas R. Carper | | ( 78th - January 19, 1993 to January 20, 1997 - 1st Term ) |
| Thomas R. Carper | | ( 79th - January 20, 1997 to January 3, 2001 - 2nd Term ) |
| Ruth Ann Minner | | ( 80th - January 3, 2001 to January 16, 2001 - Assumed Term ) |
| Ruth Ann Minner | | ( 81st - January 16, 2001 to January 20, 2009 ) |
| Jack Markell | | ( 82nd - January 20, 2009 to Present ) |

( " Click on each Governor's individual name below for detailed information on them " )



( " Click on each Governor's individual name below for detailed information on them " )
| | | |
| --- | --- | --- |
| Thomas Collins | | ( 1st - Passed away on March 29, 1789 ) |
| Gunning Bedford, Sr. | | ( 2nd - Passed away on September 28, 1797 ) |
| John Collins | | ( 3rd - Passed away on April 16, 1822 ) |
| Joseph Haslet | | ( 4th - Passed away on June 20, 1823 ) |
| Caleb Prew Bennett | | ( 5th - Passed away on July 11, 1836 ) |
| Thomas Stockton | | ( 6th - Passed away on March 2, 1846 ) |
| Joseph Maull | | ( 7th - Passed away on May 3, 1846 ) |
| William Cannon | | ( 8th - Passed away on March 1, 1865 ) |
| Joshua Hopkins Marvil | | ( 9th - Passed away on April 8, 1895 ) |


( " Click on each Governor's individual name below for detailed information on them " )
| | | |
| --- | --- | --- |
| Joshua Clayton | | ( 10th & 11th - June 2, 1789 to January 19, 1796 ) |
| Gove Saulsbury | | ( 42nd & 43rd - March 1, 1865 to January 17, 1871 - Assumed 1st term ) |
| C. Douglass Buck | | ( 60th & 61st - January 15, 1929 to January 19, 1937 ) |
| Walter W. Bacon | | ( 63rd & 64th - January 21, 1941 to January 18, 1949 ) |
| J. Caleb Boggs | | ( 66th & 67th- January 20, 1953 to December 30, 1960 ) |
| Pierre S. du Pont | | ( 73rd & 74th - January 18, 1977 to January 15, 1985 ) |
| Michael N. Castle | | ( 75th & 76th - January 15, 1985 to December 31, 1992 ) |
| Thomas R. Carper | | ( 78th & 79th - January 19, 1993 to January 3, 2001 ) |
| Ruth Ann Minner | | ( 80th & 81st - January 3, 2001 to January 20, 2009 ) |
| Jack Markell | | ( 82nd & 83rd - January 20, 2009 to present ) |


( " Click on each Governor's individual name below for detailed information on them " )
Joseph Haslet

( 19th Governor - January 15, 1811 to January 18, 1814 )
( 25th Governor - January 21, 1823 to June 20, 1823 )


Charles Polk

( 28th Governor - January 16, 1827 to January 19, 1830 )
( 31st Governor - July 11, 1836 to January 17, 1837 - Assumed Term of Gov. Caleb P. Bennett )


Elbert N. Carvel

( 65th Governor - January 18, 1949 to January 20, 1953 )
( 69th Governor - January 17, 1961 to January 19, 1965 )


( " Click on each Governor's individual name below for detailed information on them " )
| Caesar Rodney | John Cook | Nicholas Van Dyke, Sr. | Thomas Collins |


( " Click on each Governor's individual name below for detailed information on them " )
| Caesar Rodney | John Cook | Thomas Collins | John Davis |



( " Click on each Governor's individual name below for detailed information on them " )
| John McKinly | Thomas McKean | George Read, Sr. | John Dickinson |



( " Click on each Governor's individual name below for detailed information on them " )
| Daniel Rogers | David Hall | Nathaniel Mitchell | Joseph Haslet |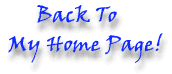 Email any questions to:
Russ Pickett
Click Here
Last update: Sunday, November 11, 2012