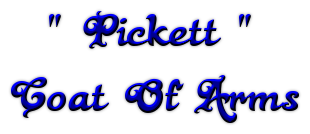 The " Pickett Coat of Arms " shown is a fine example of canting, the heraldic practice of using a device which punningly alludes to the name of their bearer. They are, however, slightly misleading, since the origin of the " Pickett " surname is unrelated to any occupation, but is rather patronymic, coming from the personal name of the father of the original bearer. " Pickett " thus literally signifies " The son of Pickett ( or the descendant of ) ". The personal name itself is in fact a variant of " Picot ", itself a diminutive of the Old French personal name " Pic ", introduced to England following the Norman Conquest of 1066.

That " Picot " was a personal name is verified by the Domesday Book of twenty years later, in which one " Picot " appears as a chief tenant in Hampshire, and we also find therein a " Picot de Grentebrig ". It is also interesting to note that two families in Cheshire, the " Pigots " and the " Pichots ", ran side by side for generations, and both are believed to spring from the one common ancestor, " Gilbert Pichot ", lord of Braxton ( Earwaker's East Cheshire, ii, 361 ).

Other early references to the name include one to a " Robert filius Picot " in the Red Book of the Exchequer for Yorkshire in 1186 - the " filius " here, meaning " son of " testifies to the surname's patronymic origins, and the naming of " Walter Piket " in the Berkshire Pipe Rolls of 1177, while a " Godfrey Piket " appears as a resident of Somerset in the Court Rolls of Edward III.

Today in England the surname is chiefly associated with Wiltshire, and it was also among the first names to become established in the New World, " Thomas Edward Pickett " of Kentucky, one of the most renowned medical practitioners of the early twentieth century, being a direct descendant of " George Pickett ", a resident of Westmoreland County in Viginia in 1680.







Created by Russell Stout Pickett in: April, 1990
This page last updated: Tuesday, July 7, 2020